KEENPRO Allies With Different Industries To Create A Multiple-win Situation With The Whole Plant Services
2020-12-16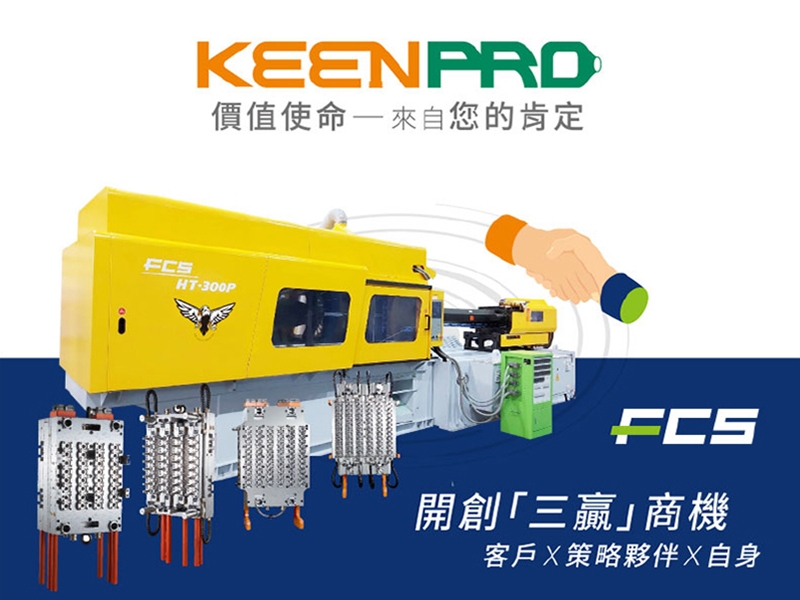 KEENPRO specializes in the R&D and manufacturing of blow molding machines. The equipment is mainly energy-saving and high-efficiency. Since its establishment, it has attracted the attention of the global market. In addition to focusing on technology, it is also actively reforming. We allies with Taiwan's leading injection molding machine manufacturer to develop smart models, effectively integrate the upstream and downstream industry chains to provide customers more services.
The injection mold required:
stable dimensions
high concentricity
consistent weight
no crystallization
no scratches
no burrs
high surface quality

KEENPRO can design preforms and work with FCS to create better services for customers.
Furthermore, outsourcing preforms are not able to meet the needs of high-capacity production lines. Also, daily chemical bottles and oil bottles are difficult to obtain. An injection machine is recommended and improves production efficiency.
Besides, KEENPRO recommend customers to choose auxiliary equipment such as:
dehumidifier (control in-mold moisture for optimal processing quality)
vacuum feeder (energy saving by decreasing the time and temperature needed for drying the PET material)
chiller (provide fast cooling for the mold)
We integrate capabilities to create a multiple-win situation for customers, strategic partners, and KEENPRO.
It is our mission to listen to and solve your problems, and it is the value of KEENPRO!