Taipei International Plastics and Rubber Industry Exhibition
2022-09-30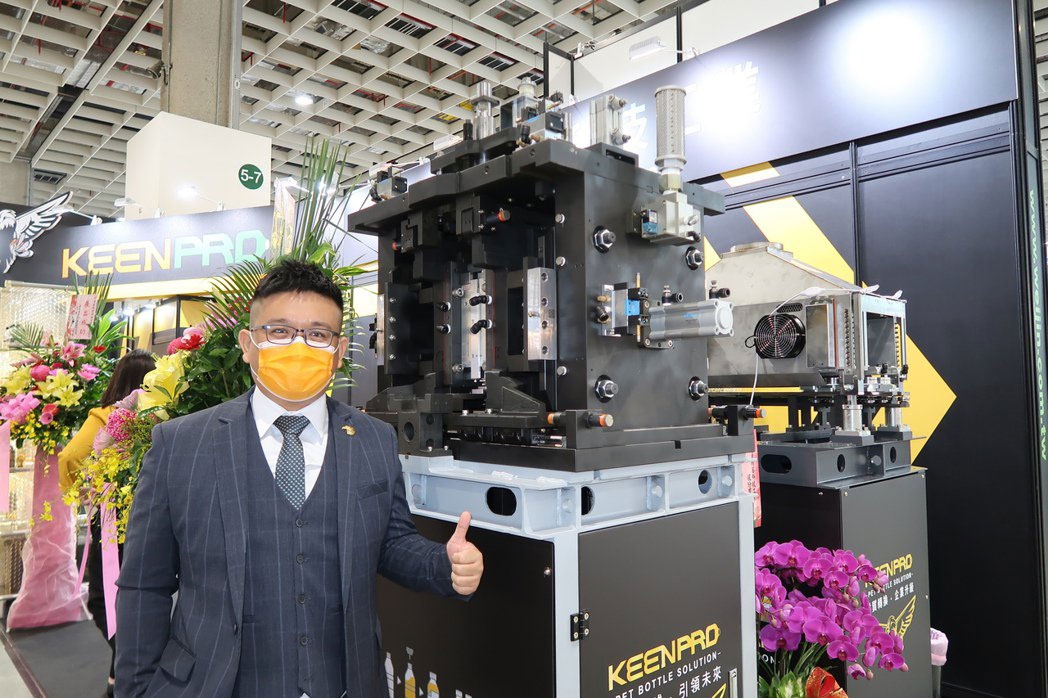 Taipei International Plastics and Rubber Industry Exhibition (TaipeiPLAS)" will be exhibited in Hall 1 of Nangang Exhibition Hall from September 27 to October 1. KEENPRO INDUSTRY CORP. will exhibit energy saving and power saving and intelligent PET bottle blowing in 1101, J District. Whole plant equipment, providing all-in-one planning for the entire production line, assisting in material conversion, flexible and customized development to meet customer needs.
KEENPRO was established in 2008. From the initial focus on the stretch blow molding machine to the current overall planning of the turnkey production line, step by step, it has created its own brand "KEENPRO" and sold it to Southeast Asia, Japan, etc. The innovative product award of the Industrial Exhibition Conference. At present, the market share of bottle blowing machines in Malaysia is as high as 80%. This year, it has successfully entered the EU market.
Mr. Tom Huang, associate manager of KEENPRO Company, said that "carbon footprint" is a hot topic in today's market. KEENPRO has been quietly carrying out energy saving and carbon reduction work for many years, assisting customers to deploy in advance, including the introduction of rPET recycled raw material applications, old equipment parts Recycling, material conversion, equipment environmental certification, etc.
Taking rPET recycled raw materials as an example, the KEENPRO team has been able to produce 30%, 50%, 75% rPET preforms with professional technology, after numerous tests and adjustments, and provide customers with suitable solutions. The partner is to use 50% rPET to produce the bottle.
In terms of material conversion, KEENPRO has been established for more than 10 years and has successfully carried out material conversion for well-known companies in many countries. Glass and HDPE are both successful cases. Mr. Tom Huang said that the conversion of materials can provide enterprises with more economical and efficient carbon reduction production.
Regarding environmental protection certification, KEENPRO has developed a PET automatic stretch blow molding machine with stable quality, energy saving and power saving by using an energy-saving air recovery system. After the SGS power test, it can save up to 60% of electricity consumption. It will also be awarded Malaysia MyHIJAU in 2021. ECO label certification.
Mr. Tom Huang said that KEENPRO is a team with a solid foundation of traditional technology but a young brain. In recent years, the epidemic has added many variables and challenges to the market, but it has not hindered the progress of KEENPRO . In the big environment where the Internet has no borders In order to adapt to the market, the company strengthens online marketing, revamps the website, builds a professional YouTube channel, and participates in international online exhibitions. With creative marketing, the company can continue to receive orders and ship normally during the epidemic. Seeing that the epidemic is about to be lifted, the company has sent out invitations to foreign customers, and will start visiting Southeast Asia, Japan, Europe and other foreign customers in the fourth quarter for inspection and maintenance.
2022/09/26 09:42:53
經濟日報 李炎奇
https://money.udn.com/money/story/10161/6640154?from=edn_previous_story#l8mdstsoqth5hfgwmri