(KEENPRO Knowledge Sharing) Ways of PET preform storage for stable bottle-blowing quality
2022-01-13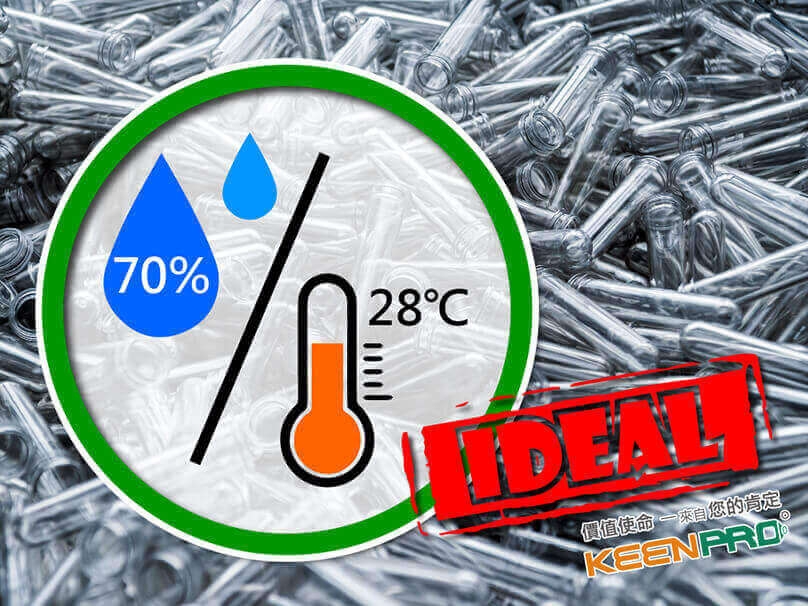 KEENPRO's precision stretch blow molding machines are mainly used for PET (Polyethylene Terephthalate) material, since PET is a most recyclable plastic material. And KEENTPRO's stretch blow molding machines support and are able to cope for the demand for both mass production and small amount but with various bottle designs. Bottle content include but not limited to, water, tea, edible oil, juice, carbonated soft drinks, detergents. KEENPRO is definitely your invisible strong backup for lifting your life quality.
But do you know, before blowing the bottles, the storage of preforms may affect the quality of bottles dramatically? Although before preforms are produced, the PET resins had gone through the drying process, but yet, PET is a hygroscopic material, thus the environment and the way of storage will change the temperature and the moisture content of those preforms. Therefore if the temperature and the dampness of the preforms are not monitored, then the bottle quality will certainly be affected severely. For the final bottle quality, we shall suggest the following storage principles:
Always remember PET is hygroscopic, monitor the temperature and the humidity
We suggest that storing preforms in a space with constant temperature, the temperature may be controlled at under 28°C, and also make sure the humidity is not over 70%. Besides these 2 factors, the blowing workplace, and the preform storage space, the temperatures between these 2 places must try to keep under 2°C. By doing this , those preforms will NOT change the quality due to the sudden change in temperature and humidity.
Buy as much; First in, first out (FIFO)
Often, due to the space limitation or the budget, not anyone can afford a constant temperature warehouse, and majority still purchases the preforms regularly. The procurement officer may purchase the quantity for 2~3 days, and remember the FIFO method, and store preforms under a stable temperature and humidity place. If the quantity is large, perhaps we may discuss about a turn-key solution, to buy a preform injection machine, it will then definitely control the preform quality and delivery better.
Listening and Solving your problem is our mission, and it is the value of KEENPRO's existence. Your trust will set off our creativity and innovation. Should you be interested in our PET stretch blow molding machines, please click on the link, or contact us directly: https://www.keen-pro.com/contact/contact.html