CONGRATULATIONS! KEENPRO OBTAINED THE MALAYSIAN MYHIJAU SEAL.
2021-08-25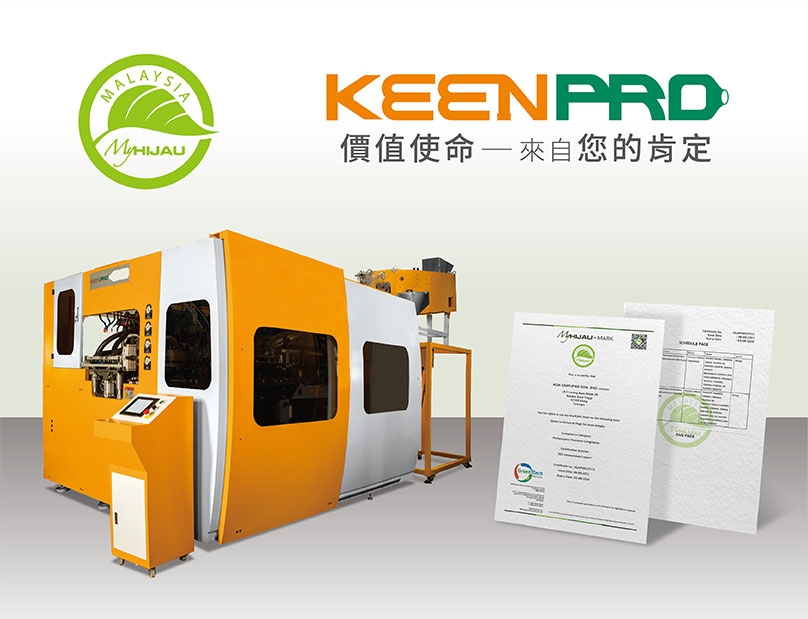 Respond to the trend of the international circular economy, global plastic industry does the best and invest into R&D to stand out its ability. KEENPRO is very proud to announce that, the EM-series of PET stretch blow molding machine has successfully obtained the MyHIJAU Seal in Malaysia! Through flexibility, high-efficiency, customization, low-consumption, friendly environment to have the innovative ability, providing the better service & value to the global customers.
Malaysian Government determines to build to be the global green technology center since 2013, starting the 7 leading related sectors include: Energy, Manufacturing, Architecture, ICT, Water Resource, Waste and Transportation, they monitor the green products and the services together, and at the same time, using MyHIJAU Seal as the highest standard, so the customers may recognize easily. KEENPRO, had been through one year of assessments in different levels, finally obtained the MyHIJAU Seal in August this year (2021), yet another mile stone for KEENPRO to move on to the green tech product.
Due to the limited resources, and the community of life concept, the global hot topic of Carbon Neutrality followed by "Kyoto Protocol"& "Paris Agreement" forces all the industries to adjust their direction is inevitable. According to the Bureau of Energy, every 1kWh of electricity will produce 0.544kg of carbon dioxide, and this coincidentally matches the aim of KEENPRO' s R&D team, "Energy-saving, Environmental-friendly", KEENPRO welcomes the new era of Carbon Neutrality and the business leads.
KEENPRO develops the energy-saving, full-automatic PET stretch blow molding machines by green energy oriented, invested in energy and resources, and using air recovery system. Based on the result from SGS, the blowing machines of EM-series may save the electricity up to 60%, so the customers may plan a long-term project more effectively.
KEENPRO has been established for over a decade, and it continues to break new ground, focusing on the Green Technology, and ensures the customers have an extra protection when purchasing from KEENPRO. Listening and Solving your problem is our mission, and it is the value of KEENPRO' s existence. Should you be interested in our EM PET stretch blow molding machines, please click on the link, or contact us directly: EM STANDARD。