KEENPRO CONTINUES TO EXPAND THE APPLICATION OF PLASTIC PACKAGING TO MAKE A BETTER LIFE
2020-11-02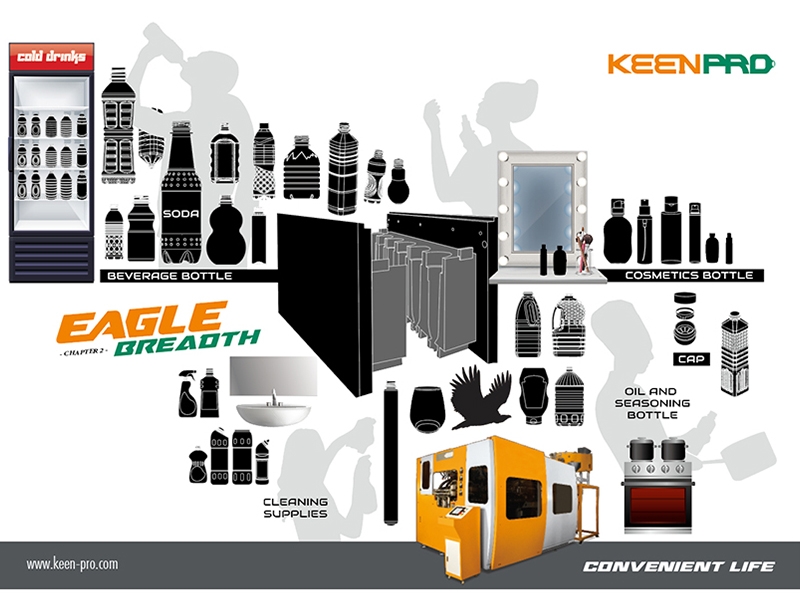 With the increasing demand for plastic bottles, it has also promoted the development of the bottle blowing industry, and the bottle blowing machine has become necessary processing equipment.
KEENPRO devotes itself to the R&D and production of PET Stretch Blow Molding Machines. Just like the eagle hovering in the sky has mastered the market trend and has been expanding the breadth of blow molding applications, bringing more possibilities for customers.
KEENPRO provides mold design, production, and evaluation services to produce different shapes of PET bottle according to customer requirements, such as: 1. Drinking water bottle: mineral water, bucket water. 2. Beverage bottles: soda, juice, tea, yogurt, other dairy products, etc. 3. Cosmetic bottles: toner, lotion, travel size bottle, etc. 4. Cleaning supplies bottles: dishwashing liquid, household cleaners, etc. 5. Oil bottles and seasoning bottles: salad oil, soy sauce, seasonings, etc.
To improve customer competitiveness, KEENPRO also provides a series of whole plant services for water, beverages, lotions, and oil bottles other than high-quality machines and services.
Do you want to produce different shapes of PET bottles from the market? Welcome to contact us.
It is our mission to listen to and solve your problems, and it is the value of KEENPRO!!